---
---
Gary:

Your a natural in understanding the Love and dedication needed in training our Chocolate Lab. You can see the proven dedication and results of your work in the enclosed pictures.
Thanks so much...!
Bruce, Travis, and Tairoy
Kauai, Hawaii / Grass Valley, Calif
---
| | |
| --- | --- |
| | |
Gary,

Your innate ability to understand and train great hunting dogs is self-evident to everyone who has met Sammy. She is a remarkably well socialized member of our family who is simply a joy to be around.

We are well into our first season and Sammy is performing beyond my expectations on both ducks and pheasants. Sammy has done "real life" blind retrieves on land and in water, "overs" at nearly 100 yards and is very good at taking her turn with other dogs in the duck blind. While Sammy's nose is fantastic, the attribute about which I receive the most complements is her discipline.

If the truth were to be told, you have trained me how to handle Sammy at least as much as you trained her to be a full-fledged Gun Dog. Your availability for dog training advice is remarkable and greatly appreciated. You have more than proven to me many times over that you train for the love of "your" dogs and the outdoors, not the almighty buck.

Over the last several months you have become far more than "my dog trainer", you have become a great friend.

Sincerely,

Dave Marshall
---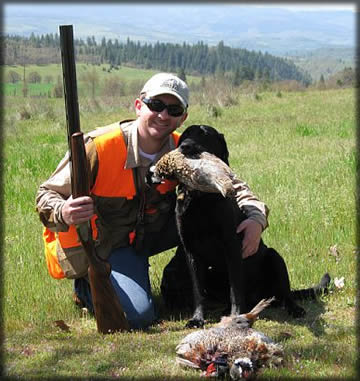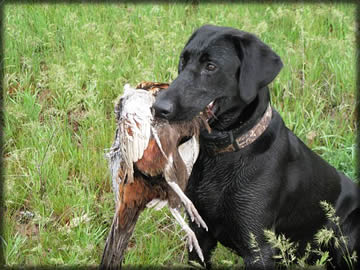 I just wanted to let you know how much we love Cassie. When we were looking for a started hunting dog I called over 20 trainers all over the country and by far you were the best we came across and now that we have had Cassie for two months she is as advertised and everything we ever hoped she would be.
My wife is 7 months pregnant, we have a two year old, a six year old untrained dog and a cat and my pregnant wife was not too excited for me to get another dog. I am convinced that it only worked because you did such a good job with Cassie. She is the best trained dog and is perfect with my two year old and gets along great with our other pets.
She is also perfect as a hunting dog. I took her for her first hunt with me last weekend to a hunting preserve and she was nothing less than remarkable. We got four pheasants together (pictures attached) and she found every one of them and quickly retrieved them once I shot them. I did miss one Chuckar (first bird and I was rusty) and if Cassie could fly she would have got it as she chased it until I had to call her back and when I did call her back she quickly came. You are good. Do you do shot gun shooting training???
Cassie is wonderful and please have any of your prospective clients give me a call and I will gladly expand on just how well you are able to train a dog not only as a hunting companion but a great loving family dog. Your work is impressive.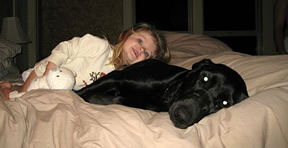 You are on my bed, ( says Cassie ).
Thanks again,
Dave Coffin
Camas, Washington
---
Dear Gary,

You came highly recommended from Stuller Creek Kennel for being a great hunting gun dog trainer. My wife and I were very impressed when we got Cosmo back from being trained with you. I have had a lot of labs and sometimes you don't get the same dog back when you send them off to a trainer.

In this case, Cosmo came back the same smart, affectionate, playful and fun pup, but with a lot more confidence in his retrieving capability. In just a few short months, Cosmo is now doing doubles with ease and doing remote sits while waiting for his name to be called to retrieve. He is well socialized with other dogs and people. As you know when I picked Cosmo up, he barely wanted to leave in my truck because of the love and attention you give to each of the dogs in your training program. You make the training fun for the dogs and don't use a lot of the pressure that other trainers use. The dogs want to retrieve for the praise you give them in training. I take Cosmo over to a local park to continue his training and give him some good exercise each night. The neighborhood around the park comes out to watch him do his retrieves and always compliment me on how well he listens and his obedience.

Thanks again for all your training of Cosmo!

Bryan Jones
City Traffic Engineer
City of Fresno, CA=

Cosmo, left and his little brother Dude, right
---
---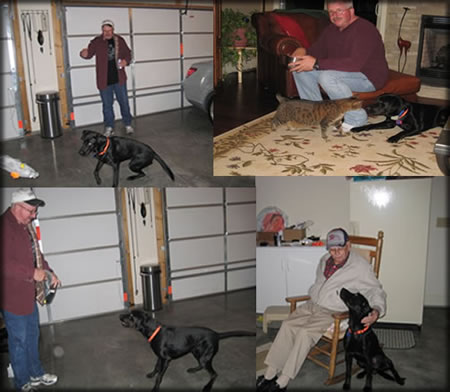 What a dog!!!!!!!!!!!!!! It was hot and everyone (UNK Hunters at a public hunting field) was standing around at the barn when I pulled up. Let Dude out and he went around and said hello to everyone and everyone said how nice he looked. After about thirty minutes of small talk everyone knew this was his first hunt. So me and my boy took off across the field, found some shade and waited. I made him sit next to me for two hours before I got my first shot at a dove and of course I missed. Missed the next two or three then finally the man sitting 20 yards next to me knocks one down. The bird hit the ground a good 80 yards away, gave dude his back yard command DUDE and off he went. He was so excited and he looked like a bullet running across the field leaving a dust trail as he ran. You could here other hunters around the field, say look at that dog go. All eyes were on Dude to see what he was going to do. He found the bird, it was still alive so he just looked at it for a second, then he looked back at me like to say this isn't a bumper dad ! He looked at it again then ran around it once. He softly picked it up and ran back to me, sat down next to me and released the bird in my hand. Gary you were right he had a mouth full of feathers. The next 13 birds he retrieved were just like clock work. He got to were he would just spit the feathers out and waited for the next bird. I had to only help him twice to find a bird, those were 100 plus yard retrieves. He did get excited and broke several times before he was released but I made corrections when needed. Everyone thought he was great!!!!!!!!!!
I took him yesterday again for a few hours and the guys that I met really like to watch him work. I ended up with three of them sitting with me and Dude just to watch him do his stuff. Really it is easier to let someone else shoot so you can fully control the dog. I do need to work on the hand signals and can see why that is so very important. I tried the direction you gave me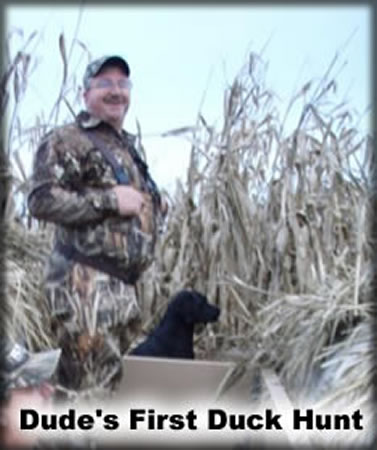 the other day. He gets it's up close with one bumper but when I throw one bumper one way and the other the opposite direction he wants to do it his way and will not listen our pay attention to my hand direction. Just need to continue to work on this. Anyway he is a great dog!!!!! He looks at anything I'm shooting at or anything falling from the sky. The hunting really teaches him the discipline to sit for long periods of time.
---
10/26/09
Gary,

I wanted to thank you for the excellent job you have done with Daisy, I am amazed at the huge difference in her behavior and manners. She now sleeps in our house (70 pounds of dog in my bed lol) with no problem, where as before she would have to be crated or kept in the kennel outside. I was walking her the other day and had to smile at the woman across the street struggling with her huge German sheppard, as that was me a few weeks ago!! Now I have a well trained dog who sits when I stop walking and does not pull, tug or even sniff the ground when we walk. She is always focused on me and any move I make. The difference in Daisy is so extreme I joked with my husband asking him if it looked like the same dog we sent with you a few weeks ago :). Truly, we can't thank you enough for what you have done with Daisy, it makes her more enjoyable to be around and she goes everywhere with us now. I would not hesitate to recommend you to anyone else who wants a well trained and disciplined dog. Before when we used to feed Daisy we would put the bowl down and run before she could tackle us lol, now she patiently waits and watches until we walk away from the bowl to begin eating. In fact one of the kids walked up to her while she was chowing down and she stopped and backed away. She doesn't take the kids toys and run anymore so that's definitely a plus!!! She only plays with her toys! Again, I would recommend you to anyone, if you can change Daisy, then you can change any Dog i'm convinced lol.


Best Regards,

Laura L. Hansen


---
Gary,

Mocha is exactly what I have been looking for over the past year.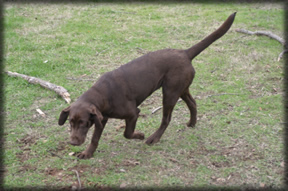 Mocha is exactly what she was advertised as being. I highly recommend Gary & Fran Garrett. It is a great experience dealing with them.

Everyone loves Mocha. Many take pictures of her in the park. Mocha's great with kids. Mocha even is beginning to get along with the older cat. Mocha has acclimated quickly to her new home.

She is quickly learning new things I'm adding to the long list of what she already knows. She comes when she's called. Mocha is easy to bathe.

She's sweet, and fun to walk with in the park with.

She's always ready to get in the car, and pretty much goes with me most places. She quietly sits on the floor, not making a fuss.

After buying Mocha, it's great coming back to Gary's with her. Gary makes his 21 foot camp trailer available for visits and it is very comfortable. Mocha and I slept well.

Steven
Home | What we do | Dogs available | About Us | Clients Comments | Past Dogs | Recipes | Dog Safety Tips |Training Fees
Our Property
Gary Garrett
CELL / BUSINESS LINE- 530-682-4806
HOME- 530-742-8719
Located in Browns Valley, Ca.
gary@trainedretrievers.com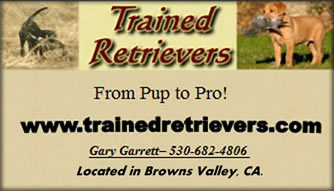 Site by: ME